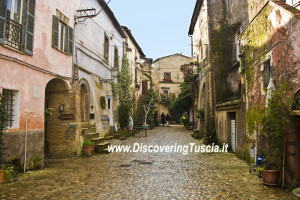 The houses of Calcata, a small village 40 kms far from Rome, seem to grow from a drum shape volcanic rock rising in the middle of the river TrejaValley.
Since the 60s, a high concentration of artists decided to live or open their studies here, "in a place where everything is small, at human scale, and the negativity of the world remains outside".
The medieval village was erected on sites of ancient settlements of the "falisci" culture, whose presence is attested by the tombs scattered on the surrounding area and whose finds are now preserved at the Museum of the Agro Falisco in Civita Castellana or in the Villa Giulia one in Rome.
In 1935, Calcata risked becoming a ghost town, after the enactment of a law that decreed the abandonment and demolition of the houses of villages considered at risk after the big earthquake of Messina. Calcata was abandoned, its inhabitants moved to a new area, but the rock was solid and so the medieval town was not demolished and it still shows us proudly.
A curiosity: it seems that the relic of the foreskin of Christ, stolen by mercenaries after the sack of Rome, then found and donated to Maddanena Strozzi who lived in the village, was preserved in the town church.
The visitor, entering the village only on foot and passing through the double doors, will not find great monuments in Calcata, but a microcosm of harmony, made of narrow streets leading to nice corners projecting over the ravine surrounding the cliff, and workshops, art studios, restaurants where you can linger and get drunk in peace.

Also do not forget that we are in the Regional Treja Valley Park, a wonderful place to relax following paths littered with the remains of Roman times or simply stopping in the shade of the trees, listening to the lapping waters of the waterfalls of Monte Gelato.
Calcata could be the ideal place to stroll and stop on a summer afternoon, and maybe to match up with the morning visit of some other nearby of the lower Tuscia, as Sutri, Nepi and Civita Castellana, just to name a few.